48 fully equipped studios & apartments, spacious, with fine decorative details and private views to the swimming pools or the lavish gardens
in an exceptional location, ideal for walking or cycling to the picturesque main village and just steps away from the sandy beach of Platanias, well organized with sunbeds and umbrellas
Your stay here harmoniously combines quietness and relaxation in a unique environment with two swimming pools and snack-bar area, surrounded by a well-tended garden with grassy areas and trees
Based in the cosmopolitan resort of Platanias, with countless options for food and nightlife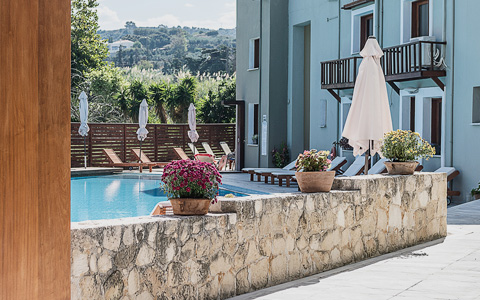 Testimonials
"The hotel is fantastic, with excellent environment, two comfortable swimming pools, and convenient location -- the Platanias main street, the beach and the bus stop can all be reached within 5 minutes' walk. The host was also very kind and enthusiastic!"
"We loved staying at Casa Maria hotel. We have lived here before, and it's so nice. The manager Elena is so kind and helpfull. The hotel is really lovely and beautiful. The pools are perfect and the location is the best. We will come back for sure. We had the best time."
"The staff so so so nice friendly, welcoming took time to explain and show us around. Always with a smile on their face. Amazing location so close to restaurant and shops, very nice setting with 2 medium size pools."
EXTRA HEALTH & SAFETY MEASURES FOR OUR CLIENTS